"Some mistakenly believe that cost is related to quality. There's no guarantee this is true, especially in the audio business." - Neal Van Berg


Castle Rock Time
Current Promotion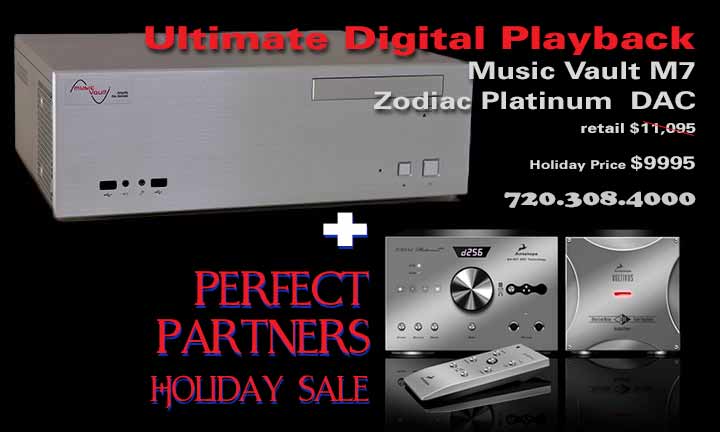 Shipping Charges outside the US will be billed separately.
News
Check out a smashing review from Part-Time Audiophile about the Sound Science & Shaker Logic room.
See a live review from Sunday by Tyson & Pez of Audio Circle. The Shaker Logic & Sound Science system was also selected as one of the "Best of RMAF," specifically with the KingSound King III speakers. Check it out!
And see the RMAF room coverage from Audiogon Hub.
Neal talks about the room and thanks the RMAF visitors.
The system included the Music Vault Diamond M7 in the Marriott's Tower, room 1125, along with King Sound's King III speakers, the Attune by Shaker Logic, EAR Audio's 868 Tube PreAmp, the Innamorata Power Amplifier by Wells Audio, Perreaux's Prisma 350 Power Amplifier, Antelope Audio's Zodiac Gold DAC, Townshend Audio's Rock 7 Turntable with the Ortofon Rondo Blue Cartridge, and a complete selection of Kaplan Cables. Room treatments by Vicoustics.
The Music Vault Diamond M7 is one of the world's most advanced and powerful Music Servers. It offers Balanced Digital Outputs, isolated USB outputs, SPDIF output, and Firewire outputs. The Diamond M7 plays from memory and has one of the lowest jitter digital outputs available. The M7 is silent in its operation and easily handles any PCM sample rates or DSD files. The Diamond M7 has 120 GB SSD, a Pair of 3 TB HD in Raid 1. Music Vault servers provide Raid 1 automatic duplication of your Music as standard. The Diamond M7 has 16 GB of RAM. Award winning 400 watt silent power supply. 2 year warranty and online support for as long as you own your Music Vault.
Feedback
June 14, 2013
" Now that my wife and I have listened to the Music Vault I can say without hesitation, it improved the sound quality of my system another order of magnitude. I'm no engineer and not yet even a real audiophile, but I can hear. It's wonderful to listen to music we've had for many years and hear so much more of it. When I first contacted you I almost pulled out because I feared this was something that only a true audiophile using extremely expensive gear could appreciate. I now know that's not the case. In fact, it may be that the sonic improvements of using your Music Vault may even be more palpable in a modest system like mine. Indeed, the lower the quality of the CD player the more apparent the improvement will become when listening to the same CD played back from the Music Vault...not to mention how much more convenient it is to use.
Add to this the delight of buying something directly from the designer/builder who walked me through every step of setting up the system, and it caps the deal. This has been my best purchase so far. Thank you very much.
Best wishes. " - Kurt Hermanns

April 8, 2013
" Thank you for providing one of the best audio improvements in my long journey to audio perfection. I am there!, But I may not get to sleep for hours, if not days, as I sit here and relisten to my music. I fear my vinyl albums may not be played for a long time. " - Jack Simmonds

February 10, 2013
" It's [the Music Vault Diamond] simply the best audio purchase I have ever made and that's with 3 years of hindsight. And Neal's personal and ongoing support is simply outstanding. " - Warren Harvey

June 25, 2012
"...the [Music Vault] Diamond produces without question the best digital reproduction I've ever heard. Even my diehard vinyl-loving friends say as much. It's a great product. You should be very proud of it." - Mike Currie